The Brief: 2019 Oakland Raiders memes largely feature Antiono Brown, a player who didn't even make it to the regular season with the organization.
DEEP DIVE
As the Raiders memes show, there is no other phrase to describe the Oakland Raiders 2019 season than "meme-able."
The Raiders are in their final season in Oakland and hoping to bring some positive momentum with them to Las Vegas. After all, if there's one thing people in Vegas love, it's riding a hot streak. The Raiders hope to see success and avoid the internet being blanketed with memes of their demise, as they've been used to in recent years.
Simply put, the Raiders have been a circus. They traded for Antonio Brown, only for him to immediately create controversy between frostbitten feet from a cryo chamber, not being able to wear his preferred helmet, and threatening the team's GM, leading to his release.
Raiders fans are just about ready to head out.
It never ends 😒 pic.twitter.com/JuvjcjCvTC

— NBCSAuthentic (@NBCSAuthentic) September 5, 2019
The Raiders had a ton of draft capital entering this season and went big in free agency. In the early goings of the 2019 season, it seems to be paying off for the Raiders. Josh Jacobs looks to be the real deal and he's been helped by free-agent acquisition Trent Brown. There are reasons for Raiders fans to be optimistic that the team can not only be competitive but possibly make the playoffs.
The Raiders were also featured on this season of Hard Knocks. We got to see Gruden prepared his team, widdle down his roster, and watch rookie teammates Jonathan Abrams and Clelin Ferrell hold hands on horseback. If you're wondering if they sang "Old Town Road" while doing so, they certainly did.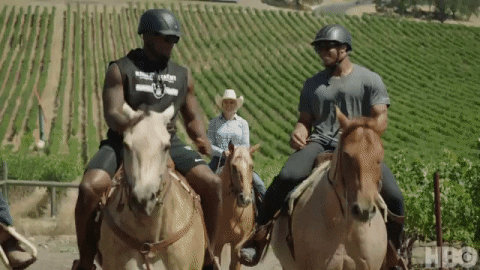 Hopefully, the Raiders can right the ship and head to Las Vegas with enthusiasm. After all, it's been a minute since the Raiders took home a championship.
The 2019 Oakland Raiders v. Antonio Brown Saga in Memes
The Raiders traded for Antonio Brown and things went south almost immediately when he couldn't practice due to frostbite incurred during a cryotherapy treatment. Then, it was a protest about the NFL not allowing him to wear the helmet he'd worn his entire career. That's when the memes started flowing.
Antonio Brown's helmet for Week 1 pic.twitter.com/E5jhf3CcSy

— COED (@COED) September 5, 2019
The issue was that the helmet was too old and no longer met the NFL's safety standards.
😂😂😂RT @NFL_Memes: Antonio Brown showing up to Raiders training camp like… pic.twitter.com/C3gbZ3c8WK

— hope1969 (@hope1969) August 10, 2019
The team and its fans were left wondering what troubles Antonio Brown would cause next.
The internet takes no prisoners #AntonioBrown #NFL #NFLMemes #Meme #Memes #Football #NoPrisoners pic.twitter.com/mzp6oEWhz1

— Greg Geist (@SilentSet24) August 10, 2019
Then, he threatened to punch General Manager Mike Mayock in an altercation. The hits just kept coming (perhaps too literally).
antonio brown update pic.twitter.com/PYeOzxPunX

— Ryan Mura (@RyanMura) September 5, 2019
It's not always easy when there are troubles in the workplace. Things around the Raiders' office continued to get weird when Antonio Brown leaked a secretly recorded conversation with Jon Gruden.
The next time Jon Gruden sees Antonio Brown pic.twitter.com/KFo295VUBa

— NFL Memes (@NFL_Memes) September 7, 2019
Needless to say, it did not work out well for Antonio Brown on the Raiders.
Posted by NFL Memes on Thursday, September 5, 2019
However, the Raiders have had the last laugh, as they're winning football games and Antonio Brown is unemployed.
Raiders fans after winning without Antonio Brown… pic.twitter.com/Kmk14Jv8Uu

— NFL Memes (@NFL_Memes) September 10, 2019