The Brief: The 2019 Kansas City Chiefs memes largely star franchise QB Patrick Mahomes, who is coming off an impressive first full season as a starter.
DEEP DIVE
The Kansas City Chiefs memes tell of a team that has a lot to look forward to coming off a season where QB Patrick Mahomes was the NFL MVP.
If you ask a Chiefs fan, they'll tell you that their QB is touched by something special.
Big time mood pic.twitter.com/UksrNSou12

— Grant Gavin (@FakeGrantGavin) September 16, 2018
They added WR Mecole Hardman in the draft as Tyreek Hill insurance in case his off-field issues catch up to him again. Meanwhile, the Chiefs drafted some defensive help and added a few key pieces in free agency, including the Honey Badger himself Tyrann Mathieu.
Travis Kelce remains a top-3 Tight End in football and the Chiefs brought in Lesean McCoy just before the season began to help bolster their suspect RB group. The success of the Chiefs in 2019 will fall on whether their offense can remain at a high level and outscore their opponents, while they're defense struggles to improve.
Can Andy Reid continue to innovate his offense and tear down the walls opponents defenses throw at his team like a live-action Kool-Aid Man?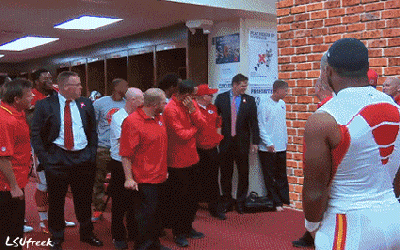 When it comes to the Kansas City Chiefs, it all starts and ends with QB phenom Patrick Mahomes.
Here's what we meme:
Chiefs Memes: Patrick Mahomes is the Reigning NFL MVP
Did we mention that Chiefs fans believe that Mahomes is #blessed?
I'm going to hell. #Chiefs pic.twitter.com/UwhkYgmbDr

— Alicia Marie (@KC_Goddess29) September 16, 2018
He's been carving up opponents like they're on the roast beef station at the buffet.
— Conrad McGorkin (@ConradMcGorkin) October 2, 2018
He's basically looked at as the Oprah of the NFL at this point.
Is he the best QB in the league? Some seem to think so.
Madden 20 Coverboy Patrick Mahomes: Is the Curse Real?
Chiefs fans are going to want to burn some sage for their franchise QB this season as he's on the cover of Madden 20.
Patrick Mahomes: *has a MVP season and a young promising career*

Madden: pic.twitter.com/Q0Z1MLI0Ly

— NFL Hate Memes (@NFLHateMemes) April 25, 2019
Not everyone Chiefs meme is a believer in curses until they're faced with one themselves. Do you believe in the Madden Curse?
Twitter: Patrick Mahomes is on the cover of Madden next year but it's cool cos that curse ain't real?

Madden Curse:
pic.twitter.com/IcBUp1p9z2

— Ced Funches (@cedfunches) April 25, 2019
ME, NOW: there's no such thing as the madden curse, there are no curses you people are all dumb

*Patrick Mahomes throws an incompletion on his 1st pass of the season*

ME: pic.twitter.com/FdM91HIpCN

— Tyler Conway (@jtylerconway) April 25, 2019
While Mahomes battles an ankle injury throughout the 2019 NFL season, fans will look back to moments like these…
The Madden Curse: pic.twitter.com/acpJaeTXSW

— TheLTrain2199 (@TheLTrain2199) April 25, 2019