The Brief: Coronavirus travel memes joke about the international spread of COVID-19 being caused by people getting an urge to travel the world once they're exposed to the virus.
DEEP DIVE
Coronavirus travel memes and Coronavirus vacation memes jokingly suggest that the spread of COVID-19 has been exacerbated by infected individuals suddenly embarking on international vacations. Since December 2019, Coronavirus (COVID-19) has spread around the world, being declared a pandemic by the World Health Organization on March 11, 2010. Amidst this serious and deadly pandemic, people are making memes to cope, to spread awareness, and to pass the time during quarantines.
While travel has been a major cause of the spread of the virus between countries and continents, the humor in these memes comes from the exaggerated way they portray people deciding to travel the globe immediately after they come into contact with the virus. As vacations are being canceled and elements of the tourism industry shut down, these memes don't exactly reflect reality.
Coronavirus Travel Memes
So anyway I started blasting traveling: 
My wife and I get corona virus. We go to Disneyland and ride California screamin. The park finds out and quarantines us on the coaster and we endlessly ride. We have kids and they grow up on the coaster. It's all they know. This coaster is our home now. Life is beautiful.

— Tanner! (@kidmanscill) March 9, 2020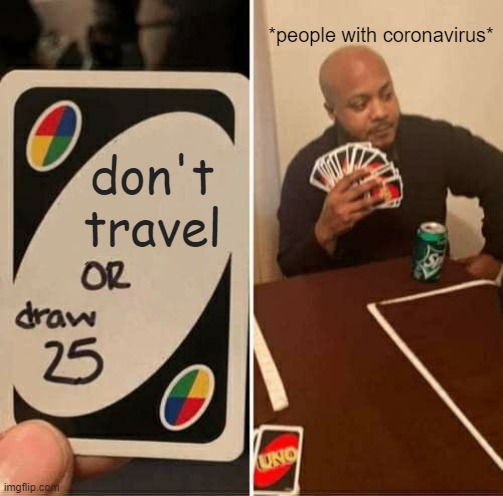 As concerts, conferences, summits, meetings, school semesters, and more are being canceled worldwide, people are limiting their travel to avoid spreading COVID-19. The U.S. State Department has put up travel restrictions for certain countries where the virus is most widespread. As travel rates decline, however, airlines are offering discounted flights and some opportunists are taking advantage of these lower rates to go on spontaneous vacations, thus making the Coronavirus travel memes seem less far-fetched.
me after hearing someone cough on my $8 round trip flight to italy pic.twitter.com/5Fumi7fWvm

— dijahsb.com (@DijahSB) March 6, 2020